In planning your cash, we propose our 3 P's: Preserve, Prepare, and Prosper.
- Pinky Poe
No one really knows how this will all fall out. But what we know for sure is that this crisis is not the first. There was the Great depression, 2 world wars, an oil crisis, multiple financial crises, and many more in the past century.
More importantly, we know this will not be the last.  With ecological disasters happening more and more, this is definitely not the last disruption we will be experiencing.
And in all those times of crisis, through all the ups and downs, many companies survived.
There's the 100 year club, all, as the name says, at least a hundred years old -- General Electric and Coca Cola, founded in 1892, 128 years old. Smuckers, those jams we all love, Target, UPS, Nikon, they are all over 100 years old.
The survivors, we will find as we go through our own crisis, will find a way to pivot their businesses, find new opportunities, and manage their cash, weather the crisis, and emerge even stronger.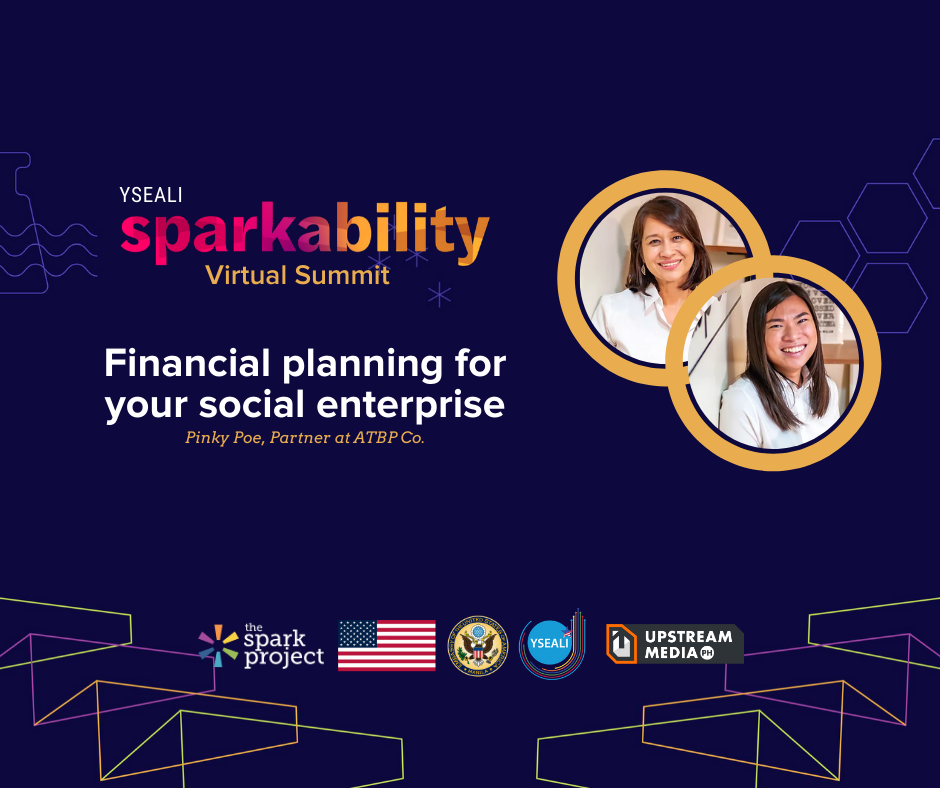 Spark with Pinky and Vini!
Pinky is a partner at ATBP Co. She's a Business Administration and Accountancy graduate of the University of the Philippines, Diliman. A certified public accountant, and holds a Masters Degree in Entrepreneurship for Social Enterprise Development from the Ateneo Graduate School of Business.
While Vini, is ATBP's Managing Partner. He's a graduate of Accountancy at the University of Santo Tomas. He has served in the social enterprise sector since he joined GKonomics in 2014, and is highly exposed to the specialized needs of social businesses and the communities they serve. Vini has attended numerous seminars on accounting and taxation, and has gained valuable experience and technical expertise as the lead-in-charge for client engagements. He's as also served as a mentor during Sparkability Bootcamp held last October 2019.
Missed out on the first ever Sparkability Virtual Summit? You can watch them here.
The Spark Project in partnership with YSEALI Philippines and the US Embassy in the Philippines hosted the first ever Sparkability Virtual Summit last May 2020. This online event, brought together different experts in a virtual series of talks and workshops on how social and creative enterprises can restart and find their spark in this new normal, and how they can seek and seize new opportunities for their business, as well as the communities that they look after.